The Centre for Research and Debates in Development Policy (CRDDP) surveyed 20,671 individuals — 16,860 men and 3,811 women — across India between March and May this year.
A day before the Supreme Court began hearing the legal challenge to triple talaq, a Delhi-based institute reported the results of its survey, showing the incidence of this form of divorce among Muslims was less than even 1 in 100.
Survey conducted by CRDDP across India between March and May this year. The respondents in the online survey were picked from a larger data base of about 1,00,000 verified respondents that CRDDP already had.
Sample Size : 20671 Individuals (Men 16860 while 3811 Women)
Extract of the Survey :
Of the 331 talaqs (divorces) reported by both women and men respondents in Dr Shariff's survey, just about a quarter had occurred through the intervention of religious institutions such as the qazi and dar-ul-kaza.
Most strikingly, however, the survey found that the incidence of the so-called "oral triple talaq" (where 'talaq' is uttered thrice at one go, without any witnesses or record) among the 331 cases was just 1 — or a mere 0.3%.
1/4 of total talaq happened as per religious institutions norm.
0.3% Talaq are happened without following laid norms and so subject to legitimacy.
13.27% Talaq was instigation by parents or relatives of the husband.
8.41% Talaq was due to Dowry.
7.96% was due to an affair by the husband
7.08% was due to the wife had failed to bear a child
Dr Abu Saleh Shariff, former Chief Economist of the National Council of Applied Economic Research (NCAER), and best known as Member Secretary of the Sachar Committee, which in 2006 submitted a report on the social, educational and economic backwardness and deprivation status of Muslims, says that "The survey has found one reporting of triple talaq in one sitting out of 331 total talaqs and khulas. This (triple talaq) is an evil and a bad practice, but its incidents are minuscule, it almost does not exist. The sample set here is of mostly of those with some education, but that approximates national educational levels."
Dr Shariff clarified that "each respondent (in the survey) had been registered by due process".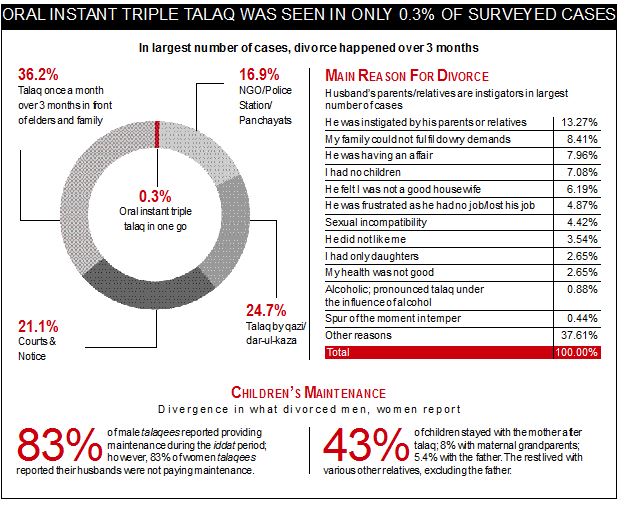 The Supreme Court today finished hearing, in 6 days, the triple talaq case and reserved its verdict on whether the practice is constitutionally valid.
The five judges hearing the triple talaq have a copy each of the English translation of Holy Quran with them for reference that they carry with them when they sit for the day-long hearing.
While hearing on the case, Govt made a U-Turn by questioning the constitutional validity of triple talaq. The Centre had contradicted the stand taken in 2001 by the then NDA government which had said that personal law could be a legitimate basis for discrimination, counsel for All India Muslim Personal Board Kapil Sibal told the Supreme Court on Wednesday
Source : Huff Post