Smoke rises among damaged buildings in the al-Mashhad neighborhood in Aleppo after attacks of Assad forces and allied militias.
---
Nearly 1,000 civilians and 26 wounded people have been evacuated in buses and ambulances from a besieged rebel-held enclave in the Syrian city of Aleppo.
---
Aleppo : The International Committee of the Red Cross (ICRC) says it expects this number to double by the end of the day.
Government forces, backed by Russian allies, took nearly all remaining rebel-held parts of Aleppo this week after a four-year battle.
It represents a major victory for President Bashar al-Assad.
He hailed the "liberation" of Aleppo and said history was being made.
Evacuation under ceasefire
The evacuation of civilians, rebels and their families had been due to take place on Wednesday but an earlier ceasefire deal collapsed.
It is unclear how many rebels are being evacuated along with civilians. The evacuees are being transferred to rebel-held areas in neighbouring Idlib province.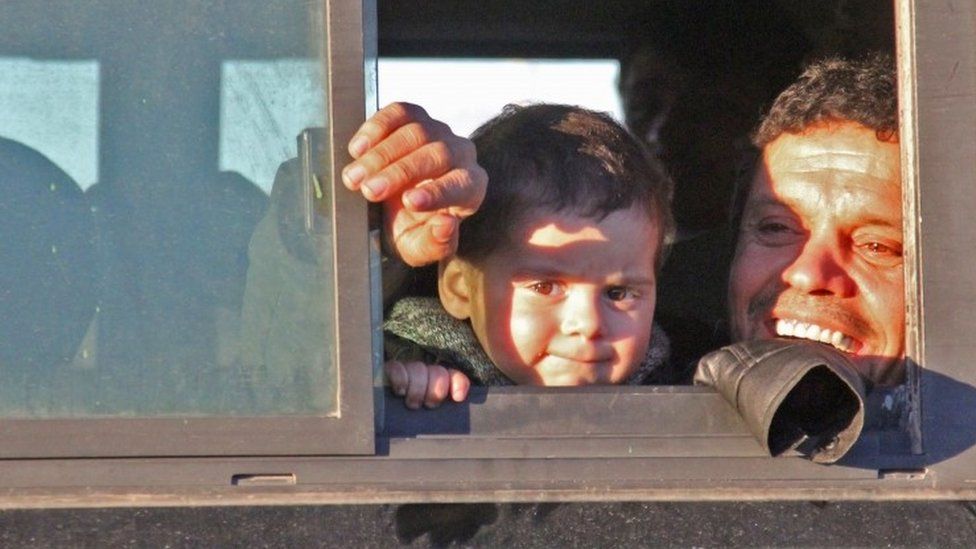 "This for us is the first step, it was a positive one," Robert Mardini, ICRC regional director for the Near and Middle East, told Reuters news agency in Geneva.
"We were able so far to evacuate 26 wounded persons from east Aleppo and close to 1,000 civilians, who were transferred from east Aleppo to western rural Aleppo."
Syrian state TV had earlier said that "4,000 rebels and their families would be evacuated from eastern districts on Thursday", adding that "all the procedures for their evacuation" were ready.
A statement from the Russian Centre for the Reconciliation of Opposing Sides in Syria, part of Russia's ministry of defence, said the Syrian authorities had guaranteed the safety of all members of the armed groups who decided to leave Aleppo.
Hezbollah, the Lebanese Shia Muslim movement backing the Syrian government, said there had been "big complications" but that "intensive contacts… led to re-consolidating a ceasefire to exit armed fighters from eastern districts".
The rebels confirmed a fresh ceasefire had come into effect at 03:00 GMT and that a new deal had been agreed, reported BBC news
Below are some pictures taken in last 24 hours.
View Images here :
View More Image
Image Source : AFP / Getty Images